April 3, 2021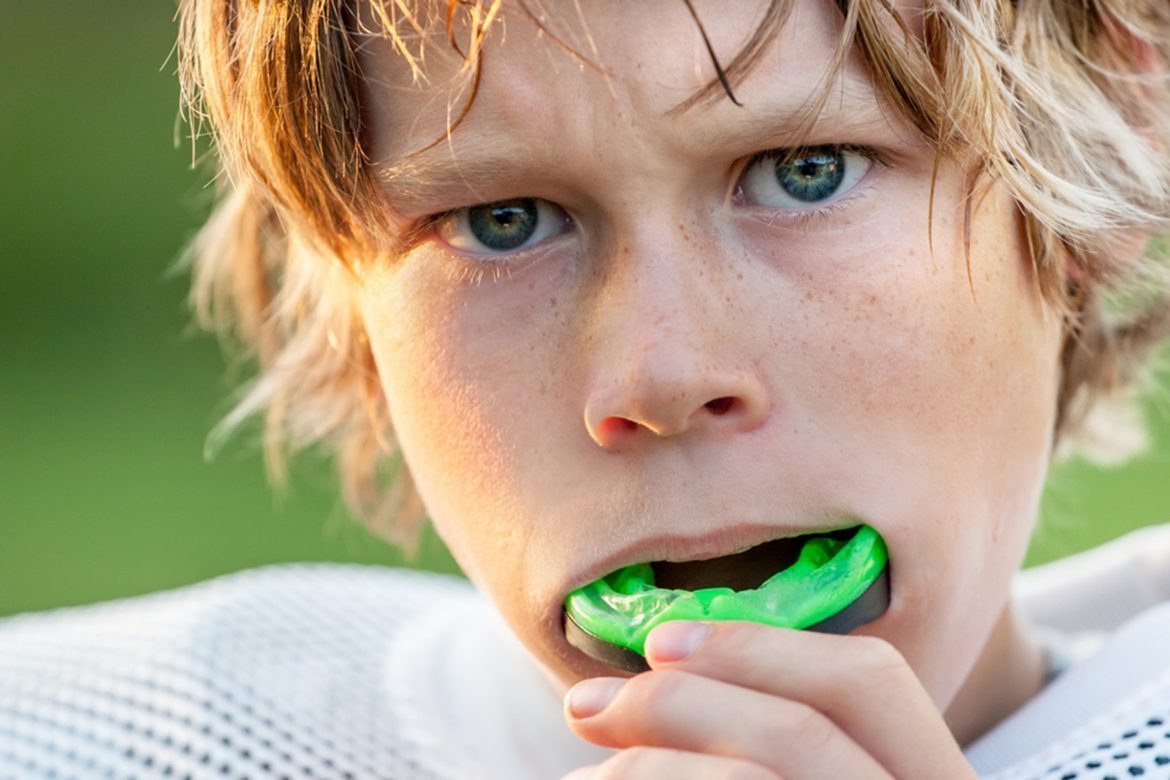 Our dentist in Toronto uses mouthguards to help patients who play sports protect their teeth and mouth from serious injury or damage. By wearing a mouthguard, a patients' teeth have an extra layer of protection, minimizing the impact of an injury on their mouth and preventing soft tissues from lacerating. At Toronto Beach Dental, we understand how important sports are to many of our patients and are happy to offer mouthguards near you.
Can Mouthguards Boost Sports Performance?
Wearing a mouthguard during sports play can do more than protect your teeth. Many studies show that athletes who choose to wear mouthguards perform better during their sports games.
One study found that those who wear a mouthguard inhale more oxygen each time they breathe than athletes who chose not to wear a mouthguard. Also, biting on something hard has been found to reduce levels of the cortisol hormone, which is the hormone that causes stress. This means that having a mouthguard in while you play sports may improve your ability to exercise without fatigue.
One other study showed that custom-made mouthguards in Toronto were able to provide athletes with the ideal bite. This means that the mouthguards work similar to orthotics, aligning the user's jaws and, in turn, aligning the rest of the body. In this study, athletes who chose to wear mouthguards were able to jump further, bench press faster, and score higher than those who did not wear them.
Several instances have proven that the repositioning of the jaw by mouthguards improves strength and flexibility. Athletes such as LeBron James wear mouthguards for exactly this reason. The jaw position that mouthguards push athletes' jaws into is the same position that a dentist near you aims for when treating patients who suffer from temporomandibular disorder, a chronic condition that causes misalignment and pain in the jaw.
Custom-Made vs. Stock and Boil-and-Bite Mouthguards
While there are many over-the-counter options for sports mouthguards, the best mouth guard will always be custom-made by your dentist. At Toronto Beach Dental, our team is happy to create a mouthguard specially fitted to your specific mouth structure.
Stock mouthguards come in a one-size-fits-all package and, unfortunately, are often uncomfortable and loose-fitting in the mouth. Boil-and-bite mouthguards are only slightly better; patients take these home and use hot water to mold them to their teeth themselves. This can be tricky, and the patient may not create the mold in a way that will provide optimal protection for their teeth.
A custom-made mouthguard is made by your dentist taking impressions of your mouth and sending them over to a dental lab, where the mouthguard will be manufactured. Since this mouthguard is made from impressions of your mouth, the mouthguard will fit comfortably along your gum line and provide you with maximum protection during your sports games.
Visit Toronto Beach Dental
At Toronto Beach Dental, our team of dedicated dental professionals is here to cheer our athletes on! Sports are an important part of many of our patient's lives, and we want them to be able to perform at their best. With the multiple benefits that mouthguards have been proven to show when it comes to athletic performance and protection, there is no reason to opt for one.
If you are interested in learning more about the benefits of custom-made mouthguards, please contact our clinic. We are happy to provide you with information and answers to any of your questions or concerns. Please contact us to book a consultation today!